Krunchy Snack it! Bruschetta Style
Organic oat snack with tomatoes & olives
Regular price

2,49€

Sale price

2,24€

Unit price

14,93€

per

kg
Delivery in 2-4 working days
Discount from the 2nd bag
Ingredients
Nutritional values/100g

Energy: 1843 kJ (439 kcal)
Fat: 15g
of which saturated fatty acids: 1.7 g
Carbohydrates: 64g
of which sugar: 7.1 g
Fiber: 6.9g
Protein: 8.5g
Salt: 1.6g
Allergy Advice

Contains gluten and soy. May contain traces of nuts, sesame and milk.
The crunchy organic oat snack!
What you love Barnhouse for is now available as a spicy snack with Krunchy Snack it! Bruschetta Style - straight out of the bag!

Look forward to a delicious spicy organic oat snack made from regional oat flakes with tomatoes, olives and basil - cleverly refined with mediterranean spices . Get a pinch of Italian vacation feeling at home.
Crispy baked snack clusters with a delicious taste. Whether after sports, during a train ride or on the couch in the evening: Krunchy Snack it! Bruschetta Style provides great enjoyment anytime and anywhere.
Completely new, but just as delicious. Convince yourself.
Baked with oats from the fields our regional barnhouse farmers.
Get the full snack pleasure at home! Bruschetta Style, Oriental Style and Sour Cream & Onion Style in a 3-pack for only 9,59€.
Organic inspection body: DE-ÖKO-007
recommend item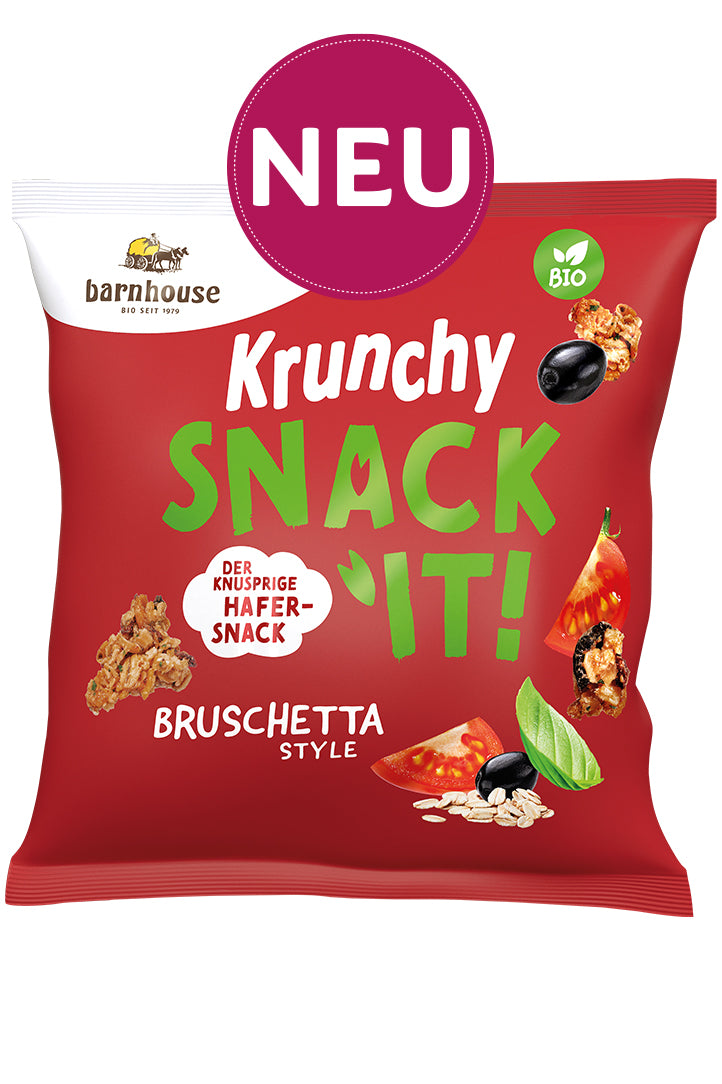 Your Krunchy in 60 seconds