Martin Eras

Managing Director

Martin's tasks as our managing director are as diverse as they are comprehensive. All pieces come together with him. Flat structures are important to him, and ideas and suggestions are always welcome. His goal: to lead Barnhouse safely and sustainably into the future.

Heidi Hentschel

Head of Human Resources

With more than 90 employees, there is never a dull moment for Heidi. There is always something to be arranged or organized and of course always lending an ear (and heart) for all colleagues is part of it. She is the first point of contact for our new "Barnies" and everyone who wants to become one. So if you have any questions about a job at Barnhouse, you've come to the right place with Heidi!

Email: personal@barnhouse.de

Fabian Kanzelsberger

Head of Purchasing and Logistics

Fabian and his colleagues ensure that we and our customers always have enough Krunchy in stock. To do this, he organizes the entire production planning, makes sure that we never run out of the ingredients we need and takes care of the logistics. It means always keeping a cool head, reacting quickly and keeping an eye on all appointments!
Adrian Reichle

Head of Sales

As sales manager, Adrian is responsible not only for the German market but also for foreign countries and our private label customers. Together with his colleagues, he makes sure that you can buy our Krunchy not only in Germany but also abroad.

Email: vertrieb@barnhouse.de

Catherine Schmidinger

Key Account Management Specialist Trade

Always an open ear - Katharina has that as a contact person for all organic wholesalers and chain stores! Within Germany, Austria and Switzerland, she ensures that you can find our Krunchy in almost every health food store. She is also responsible for ensuring that you can regularly look forward to attractive discount campaigns and exciting seasonal packages in our online shop.

Alicia Mueller

Sales Assistance DACH + Abroad

Alicia is actively helping you to find our Krunchy in more and more organic shops abroad. This means that Krunchy fans outside of Germany never run out of supplies - and you can look forward to delicious breakfast treats even on holiday. In the course of this, she is the first point of contact for our partners abroad.

Email: alicia.mueller@barnhouse.de
Christian Hoferer

Head of Quality and Product Development

Best quality is always the absolute focus at Barnhouse - and that actually goes far beyond our products. Together with his team, Christian is the top and strict guardian of our quality and all related measures. He is also responsible for all certifications and audits - from organic to IFS to Fairtrade Cocoa.

Fabian Kaleske-Stangl

Product Developer & QA

Fabian is our Krunchy Wizard! When he is not working in production on behalf of the best Barnhouse quality, you can find him one floor up in our test kitchen, where he is lovingly trying out interesting raw materials, developing new Krunchy varieties or tinkering with existing recipes to make them even better for you.

Axel Stritter

Head of Production

Axel is responsible for the perfectly running baking lines, from which delicious Krunchy tumbles out at the end. It starts with shift planning and goes far beyond monitoring technical processes. Even if our Krunchy is based on craftsmanship and skill, there is still a lot to consider for our bakers and packers.

Email: produktion@barnhouse.de
Andreas Bentlage

Head of Marketing and Product Management

As the guardian of the brand, Andreas is responsible for corporate communications and marketing, from classic advertisements to trade fairs and public relations. He accompanies our products from the idea to the market launch and takes care of the packaging. Working closely with the Barnhouse farmers is a matter close to his heart.

Daniel Haeusler

Online Marketing

Daniel has a hand in all of our online appearances. Among other things, he ensures that you can shop quickly and conveniently in our online shop. And our homepage is also his home, with which he informs you about our campaigns such as competitions and everything to do with Barnhouse. He also keeps you up to date via social media, newsletters and the like.

Email: daniel.haeusler@barnhouse.de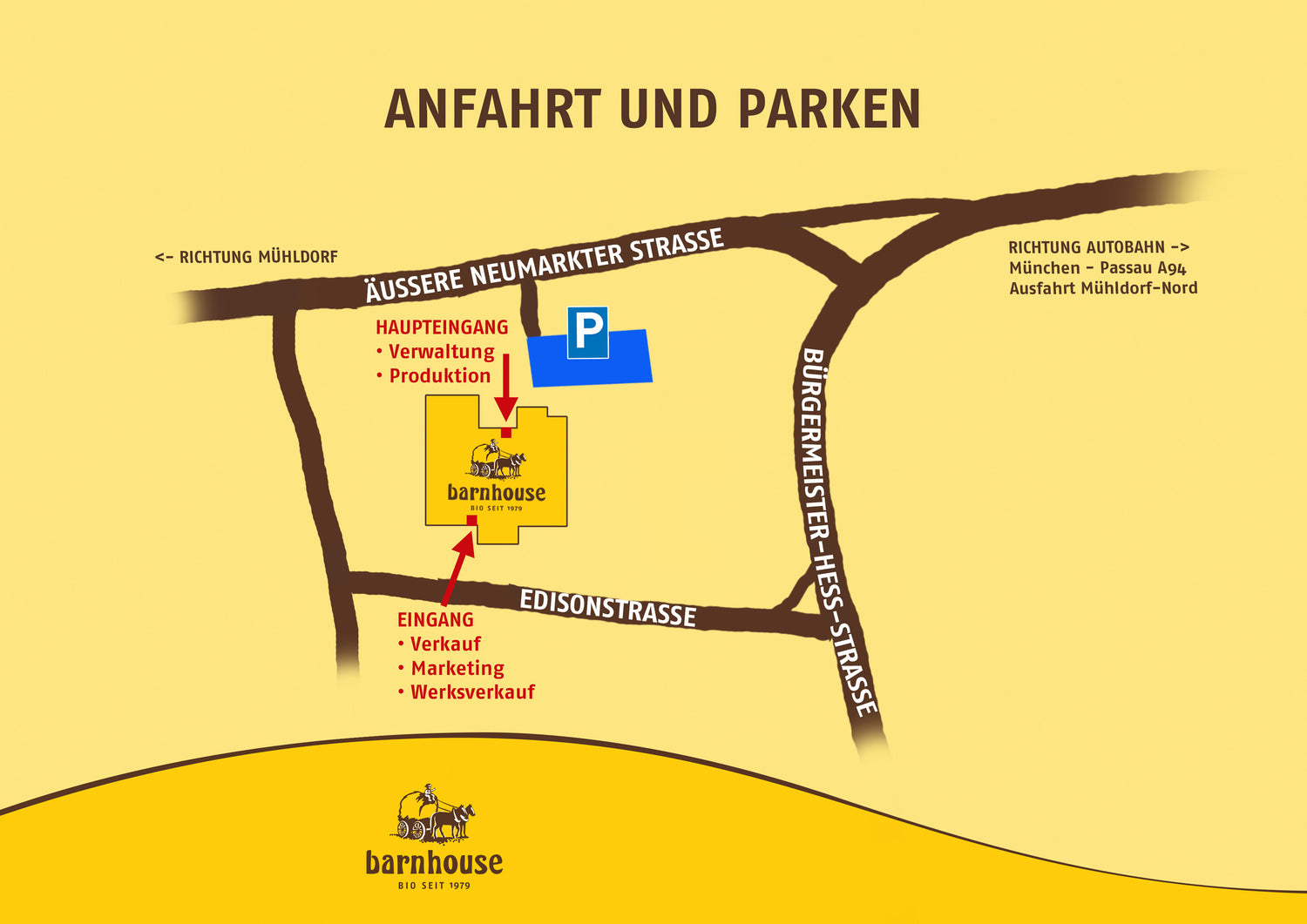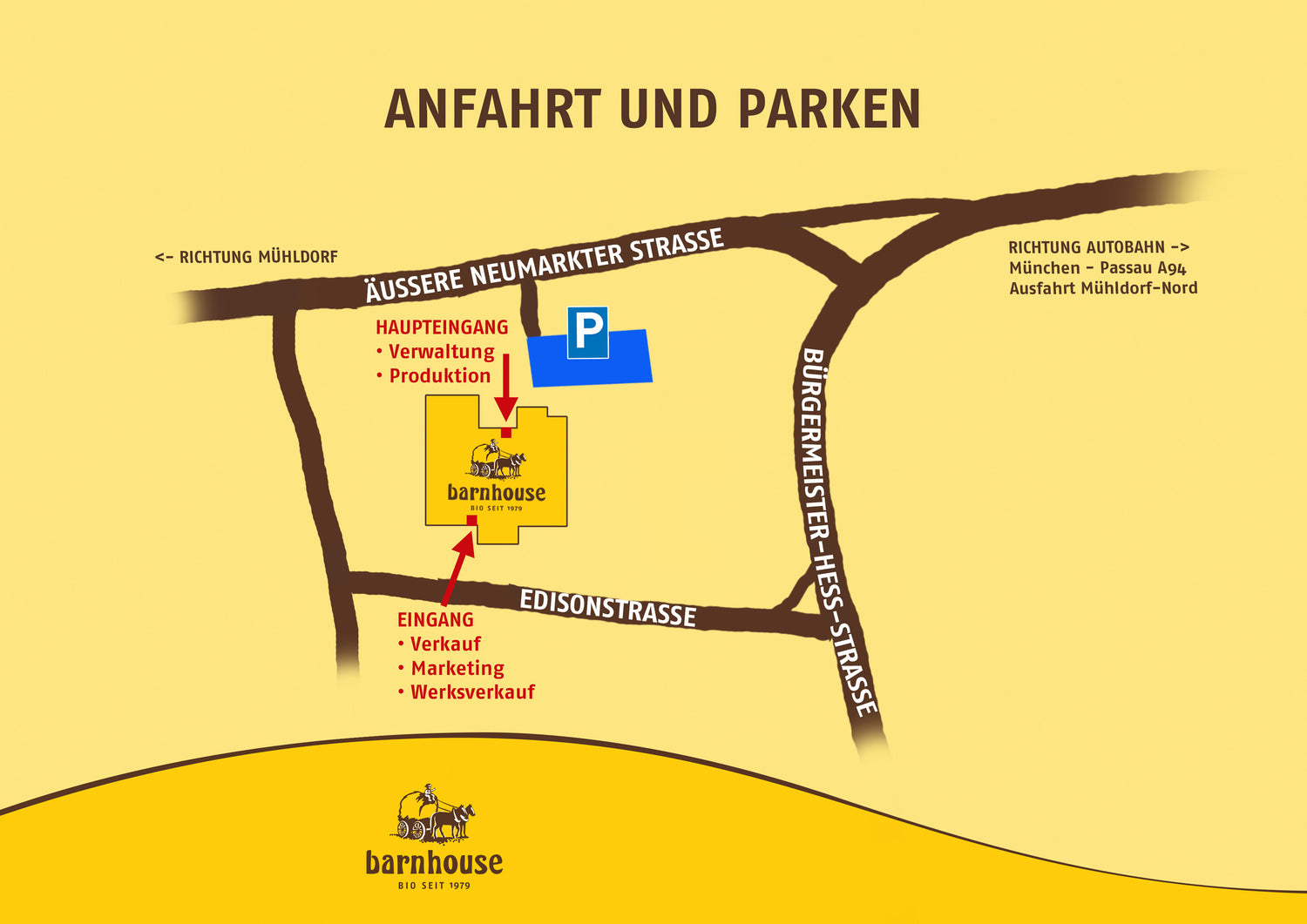 Contact
Postal address:
Edisonstrasse 3a
84453 Mühldorf am Inn
Telephone number: +49 (0) 86 31 36 22 0
When you visit us:
Main entrance (administration, management, production, technology)
Entrance to the visitor car park/main entrance at Äußere Neumarkter Str. 78 (Navigation input)
Sales, Marketing and Factory Sales
Entrance Edisonstrasse 3
Warehouse (collection and delivery of goods)
Registration Edisonstrasse 3
PDF DOWNLOAD Directions